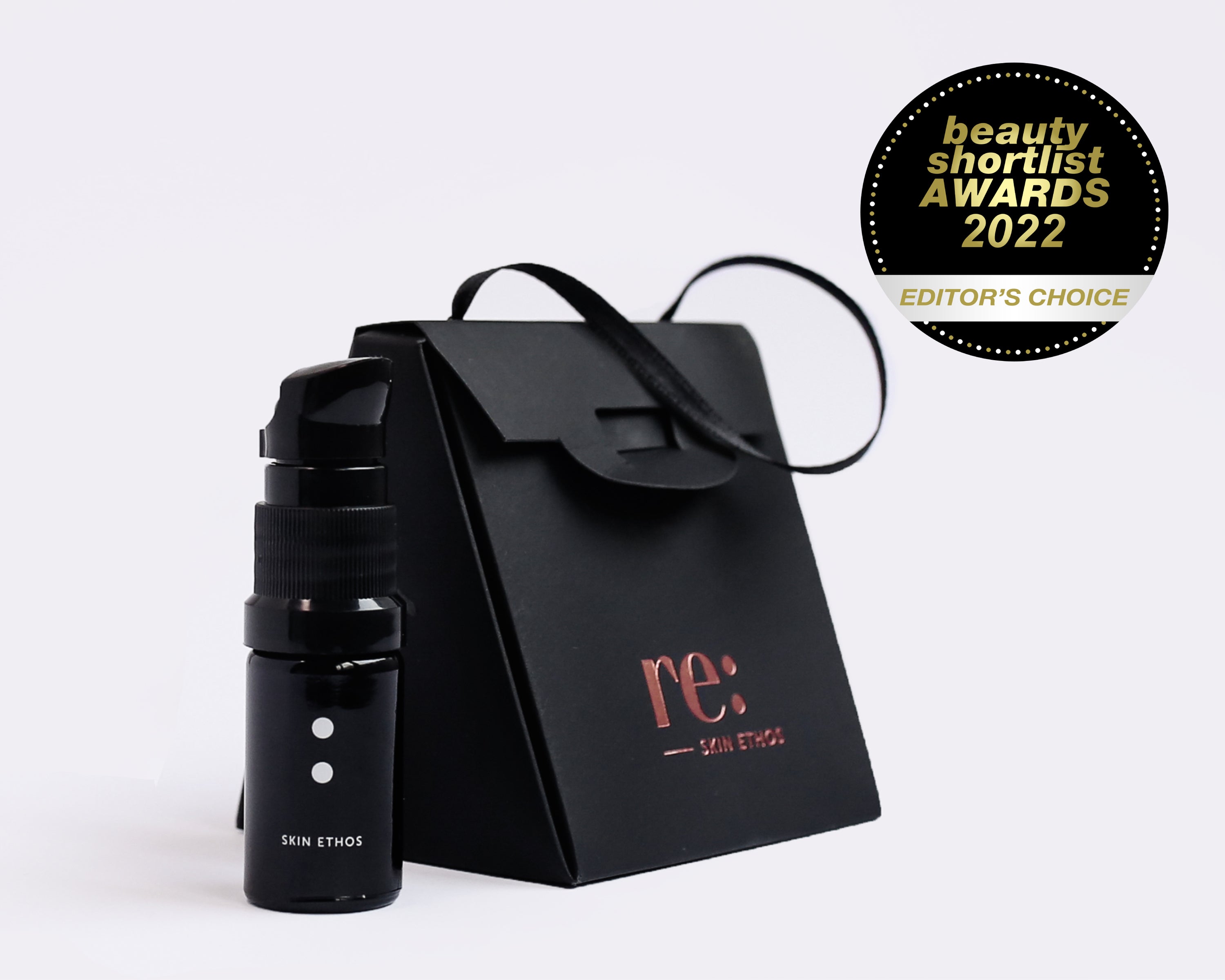 re: Skin Ethos Botanical Serum
Description
Empowered by premium natural ingredients, re: Skin Ethos Botanical Serum is a genuine superfood for the skin. This potent formula is abundant in vitamins, antioxidants, minerals, and omega-rich oils, with the ability to enhance cell regeneration, collagen production, skin elasticity, and firmness. Lightweight and fast-absorbing re: Skin Ethos Botanical Serum is the only thing you need to let your inner light shine.
Formulated to nourish and embellish your skin, this product is vegan and cruelty-free.
How to use
Gently massage 2-3 pumps into damp skin every
morning and night after skin cleansing.
Recommended for
Formulated for all skin types, especially for dull, tired
matured skin. Patch test at first. If irritation occurs, discontinue the use.
Ingredients
Adansonia Digitata (Baobab) Seed Oil*
Sclerocarya Birrea (Marula) Seed Oil*
Simmondsia Chinensis (Jojoba) Seed Oil*
Prunus Cerasus (Sour Cherry) Seed Oil*
Punica Granatum (Pomegranate) Seed Extract*
Rubus Idaeus (Raspberry) Seed Extract*
Helianthus Annuus (Sunflower) Seed Oil Unsaponifiables*
Rosa Canina (Rosehip) Seed Extract*
Helianthus Annuus (Sunflower) Seed Oil
Lupinus Albus (White Lupin) Seed Extract
Bakuchiol
Tocopherol (Vitamin E)
Citrus Aurantium Amara (Neroli) Flower Oil*
Helichrysum Italicum (Immortelle) Flower Oil*
Rosmarinus Officinallis (Rosemary) Leaf Extract*
Limonene**, Linalool**, Geraniol**, Farnesol**
Certified Organic*
Component of Essential Oil**
Ingredients Description
Baobab Oil
Baobab oil is a wide known beneficiary oil that hails from the
baobab tree, worldwide known as 'pharmacy tree' and the 'the tree of life' due to its innumerable positive traits. The baobab oil can improve skin elasticity, repair skin barriers, improve moisture level, support collagen health and soften the skin. Not only is it rich in omega-3 acids, but it is also enhanced with linoleic, palmitic, and oleic acid. It is also used for before and after sun care.
Bakuchiol
Bakuchiol is a 100% natural active ingredient that is a true
alternative to retinol but much gentler with the skin. It provides protective, restorative, anti-aging benefits and improves skin quality. As a natural antioxidant, it stimulates collagen production and provides additional benefits of anti-inflammatory capabilities. A bakuchiol nature-based anti-aging moisturizer is well tolerated and effective for individuals with sensitive skin.
Cherry Oil
Among many beneficial traits, Cherry oil is known for being
profuse in numerous antioxidants, advantageous for the immune system and skin health issues. Cherry oil can fight free radicals and efficiently help in anti-aging. By its nature, this oil is rich in Vitamins A and E. Cherry Oil keeps skin looking soft, supple, and healthy.
Immortelle EO
Immortelle, also known as Everlasting, is a highly effective
essential oil, especially when used for its antibacterial, anti-inflammatory, and antioxidant properties. This essential oil is deeply nourishing and rejuvenating. By its nature, Immortelle has an earthier and greener smell with a lingering fruity sweetness.
Jojoba Oil
The queen itself. Jojoba oil (liquid wax ester) is a magnificent
oil that offers various therapeutical benefits to human skin. Abundant in innumerable vitamins and antioxidants it is known for its rich nutritional value. Jojoba oil is known for its ability to imitate the skin's sebum and understand where the complexion craves balance. Jojoba has a unique ability to
control water loss, one of the primary causes of skin aging. Jojoba oil is excellent emollient and has regenerative and toning benefits for the skin. It provides a light film that keeps moisture and allows the skin to breathe. 
Marula Oil
Named 'miracle oil', marula oil is considered one of Africa`s
botanical treasures.  It originates from the Marula fruit tree, once considered sacred and a symbol of fertility and marital fortune. Rich in floral and fruity scent, the oil is a perfect moisturizer being of light texture and having abundant moisture potency. Rich in antioxidants, has a high level of polyphenols, vitamin C and E. 
Neroli EO
Neroli contains rejuvenating and regenerating traits, beneficial
for every skin type. Its antibacterial, anti-inflammatory and antiseptic properties help maintain moisture levels and have the ability to prevent infection and reduce irritation in skin damaged by acne or trauma. Neroli is a graceful-aging superhero that protects and preserves skin's youthfulness while ensuring its longevity. The true scent of fresh orange blossoms.
Pomegranate Extract
What could describe pomegranate oil more accurately than rich in vitamin C and rejuvenating? Pomegranate oil has strong antioxidant and anti-inflammatory properties and it contains unique punicic acid, which is a highly nutritious fatty acid for the skin, able to balance pH and condition the skin`s surface. The fatty acid is anti-inflammatory, anti-microbial, and cell regenerating, helping to increase the elasticity of the skin and repair sun and weather damage. The oil is of particular benefit for mature complexions, supporting collagen production and providing protection from environmental exposure.
Red Raspberry Extract
Raspberry Oil is an exceptionally light, dry, non-occlusive oil
that is quickly absorbed into the skin leaving it moist and nourished without a greasy or sticky feel. Raspberry Oil has an exceptionally high Vitamin E, pro-vitamin A content, and high concentrations of essential fatty acids: linoleic acid, α-linolenic acid, and oleic acid.
Rosehip Extract
Rosehip oil has an impressively long list of potent active
compounds including powerful antioxidants, nourishing vitamins, and anti-inflammatory essential fatty acids. Rosehip seed oil provides the ultimate treatment to keep your skin healthy and glowing. Its antioxidants prevent the signs and symptoms of premature aging by reducing the appearance of fine lines, wrinkles, and age spots while simultaneously protecting the skin from environmental damage. This delicate, dry oil immediately soaks into the skin, has a silky and luscious feel.
Rosemary Extract
Rosemary leaf extract is contained at .1% as a vital antioxidant, supporting the freshness and potency of our Organic Punica Granatum Seed Co2, Organic Rubus Idaeus Seed Co2, and Organic Rosa Canina Seed Co2 extraction.                                    
Sunflower Oil
The sunflower (Helianthus Annuus) belongs to the family Asteraceae and the genus Helianthus. Our sunflower seeds come from France, treated after sustainable farming practices along with the complete pressing process being carried within
France. Sunflower seed oil naturally provides a good moisturization which is essential to preserve the appearance, suppleness, smoothness, and tonicity of the skin. The level of moisturization may be abnormally low if the skin's ability to retain the water is affected which is the case with dry or mature skin, as the epidermis thins with age. This concentrated sunflower oil naturally provides moisturizing and soothing effects on the skin.
Sweet White Lupin Extract
Through the patented process of extracting Lupeol from the husks of sweet white lupin seeds raw material in itself is a more abundant source of Lupeol and more readily available than its plant counterparts. White Lupin is cultivated according to sustainable agricultural practices and helps to support a sunflower European sourcing. Lupeol is a solution to the problem of aging skin. Lupeol thus simultaneously improves the quality and the quantity of type I collagen: an essential component used to structure and support the skin, and which helps to make the dermis denser and increase its firmness, strength, and elasticity.
Vitamin E
The mixed tocopherols are derived from 100% non-GMO sunflower seeds and are considered non-allergenic. It is naturally rich in monoglycerides (lipids that act as an emulsifier) and moisturizing phytosterols and squalene.
Ingredients Ethos
The ingredients we use are an integral part of our products hence we are fully committed to ensuring that each ingredient we source is grown, harvested, and handled ethically and respectfully to the unique nature of each plant.
We are relentlessly committed to you and eager to provide exceptional products without compromising the experience.
Our plants are sourced from the Earth's most amazing regions, where each plant has its unique habitat that provides a rich spectrum of benefits and qualities. That is why we utilize the most nutrient-dense and potent raw materials as part of our formula.
Our raw materials are supported by science-backed innovation that provides the highest possible levels of stability, safety, and enhanced efficacy to you.
Each ingredient is carefully chosen with the utmost intention and sourced at the peak of its harvest potency that allows delivery of the exquisite results to you.